YOU CAN BLEED TO DEATH FROM A STAB WOUND IN LESS THAN 5 MINUTES.

WHAT WOULD YOU DO?
Knife carrying amongst young people in the UK has reached critical levels and police report a 26% increase in knife offences since 2016. Tragically, this year alone, it has cost more than 35 young people their lives. Many more face the reality of life-changing injuries.
In the first of a new short form documentary and survival series for BBC3, True Vision unpacks the medical science behind a devastating knife attack, which left an 18 year-old fighting for his life in December 2015.
"I was technically dead on Christmas Day"
Dom courageously offers the fresh, "warts and all" perspective of narrowly surviving the attack and coming to terms with a grueling recovery period which stretched across more than 18 months.
Dom owes his life to the quick thinking of a bystander who, along with support from the 999 operator, managed to keep him alive in those critical first few minutes.
Short and shareable, Dom's compelling story is interwoven with medical take-out facts and tips, which could prove to be the difference between life and death.
WHAT TO DO IF YOU OR A FRIEND IS STABBED
1. GET HELP: The first thing to do is make sure you're safe and call 999 for help. If you are safe then resist the urge to run any great distance – if you have been stabbed in the leg then you could lose a critical amount of blood by running.
2. DON'T PULL OUT THE BLADE: If the knife is still in then don't pull it out – you might severe vessels by doing so and it may be the only thing stopping blood form pouring out of the wound.
3. STOP THE BLEEDING: by applying firm pressure to the wound. Use whatever is to hand – scrunch up a hoodie or a jumper and press down on the wound. If the knife is still in you then be careful not to move or wiggle it around, just apply pressure around it whilst keeping it very still.
4.THE SMALLEST WOUNDS CAN BE THE MOST DEADLY. A lack of blood doesn't indicate that you're okay. The body can lose a huge amount of blood internally without you seeing a drop on the outside. Look out for signs of sweating or a faster heart rate – this can indicate that your heart is having to work harder due to internal blood loss.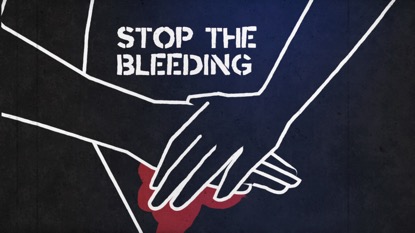 HELPLINES & SUPPORT:

Victim Support
https://www.victimsupport.org.uk
08 08 16 89 111 – Free and Confidential Helpline
Victim Support (VS) is the independent charity for people affected by crime and traumatic events in England and Wales. Our specialist teams provide individual, independent, emotional and practical help to enable people to cope and recover from the effects of crime.
We're not part of the police, the courts or any other criminal justice agency. Our services are free and available to everyone, whether or not the crime has been reported and regardless of when it happened.
MIND
https://www.mind.org.uk/information-support/helplines/
0300 123 3393 – Free Info line offering information on different mental health problems and where to get help
Mind provide advice and support to empower anyone experiencing a mental health problem. Their services include crisis helplines, drop-in centres, employment and training schemes, counselling and befriending.
KNIFE CRIME CHARITIES:
StreetDoctors
07763 457712
Street Doctors change the lives of high-risk young people by giving them the skills they need to deliver life-saving first aid. As well as saving lives they use first aid as a tool to educate and empower young people, giving them confidence and a sense of responsibility over their actions, helping to change their attitude towards violence.
The Ben Kinsella Trust
http://www.benkinsella.org.uk/
The Trust was set up after the death of 16 year old Ben Kinsella in 2008. Raising public awareness of knife crime is at the center of their work, with a particular focus on educating children of all ages on the consequences of knife crime and the devastating effect that it has on families.
Redthread
0203 744 6888
Redthread's Youth Violence Intervention Programme runs in hospital emergency departments in partnership with the major trauma network. Their innovative service aims to reduce serious youth violence, and has revolutionised the support available to young victims of violence.
LEAP
Leap supports young people aged between 11 and 25 to make changes in their lives by gaining a greater understanding of themselves and their relationship with conflict. Many of the young people they work with have grown up in care, display violent behaviour, are not in mainstream education or are caught up in the criminal justice system.
They also design training sessions and larger programmes for those working most closely with young people like local council workers, youth workers, prison officers and other voluntary sector workers, supporting them to achieve the best outcomes for young people. Leap take referrals from partners in the community like local councils, youth services, youth offending services and schools. You can also refer yourself onto the course - get in contact with the team to find out more.
Credits
Animation: Fudge Animation
Voiceover: Eli Keeble
Production Secretary: Victoria Sautter
Production Coordinator: Ness Barnett
Production Manager: Niki Whewell
Additional Camera: Tom Read
Development Assistant Producer: Marta Jelec
Shooting Assistant Producer: Tom Whitaker
Online Editors: Paddy Garrick and David Croft
Edited by: David Croft
Produced & Directed by: Jennifer Shaw
Executive Producer: Brian Woods
Commissioning Editors for the BBC: Nasfim Haque, Carl Callam
With thanks to: Dr Chris Aylwin, Dr Asif Rahman, StreetDoctors, Total Fitness Gym - Ascot.